La Liga: Barcelona 2 vs 1 Valencia (Highlights Download) 2017-18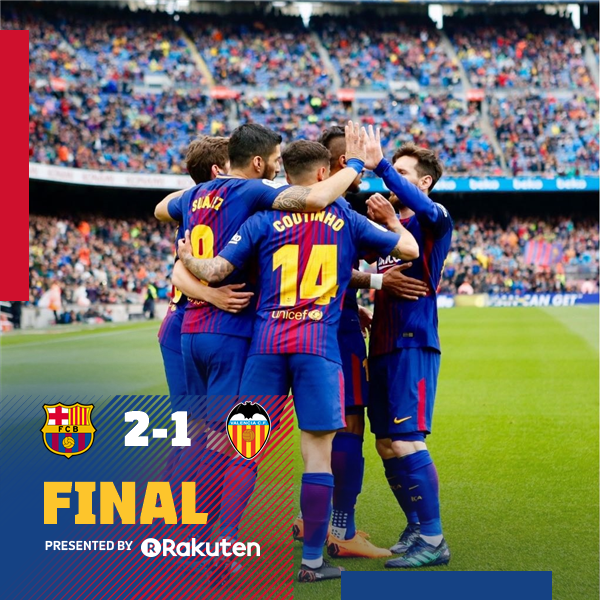 Luis Suarez and Samuel Umtiti gave Barcelona a 2-1 win over Valencia and a piece of history in LaLiga.
Barcelona made it a record 39 LaLiga matches without defeat with a 2-1 win over Valencia at Camp Nou on Saturday.
FC Barcelona

1h

NEW RECORD!! ◻️🔵🔵🔵◻️◻️◻️🔴🔴🔴◻️ 🔵🔵◻️🔵🔵◻️🔴🔴◻️🔴🔴 ◻️◻️◻️🔵🔵◻️🔴🔴◻️🔴🔴 ◻️◻️🔵🔵◻️◻️◻️🔴🔴🔴🔴 ◻️◻️◻️🔵🔵◻️◻️◻️◻️🔴🔴 🔵🔵◻️🔵🔵◻️◻️◻️🔴🔴◻️ ◻️🔵🔵🔵◻️◻️◻️🔴🔴◻️◻️ Games unbeaten in

@LaL
Suarez struck to break the deadlock after 15 minutes into the game. Samuel Umtiti headed in the second goal after 51 minutes.
Valencia pulled a gal back after Parejo's late penalty which Ter Stergen failed to clear his lines.
DOWNLOAD HIGHLIGHTS
FOR REPORT TIP OFFS: EMAIL: reportminds@gmail.com BBM: D60D006B WHATSAPP: 07060677274