Late Fellaini header stuns Arsenal as Wenger loses against Mourinho again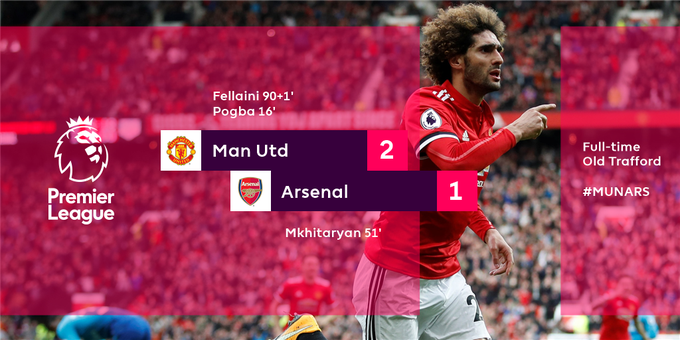 Maroune Fellaini came off the bench to score the winner in the 2-1 win over Arsenal at the Old Trafford on Sunday.
Paul Pogba tapped home a rebound in the 16 minutes after Alexis Sanchez header struck foot of Bellerin who struck the ball at the post.
The ball fell to Paul Pogba who sent David Ospina the wrong way.
Arsene Wenger side fought back in the second half, as Manchester United former player got the equaliser.
Henrikh Mkhitaryan low drive effort found the bottom corner to make it 1-1.
With two minutes left in the injury time, Ashley Young cross was met his Fellaini head as United took all three points.
FOR REPORT TIP OFFS: EMAIL: reportminds@gmail.com BBM: D60D006B WHATSAPP: 07060677274