Leighton Baines has been recognised for reaching 400 appearances in the EPL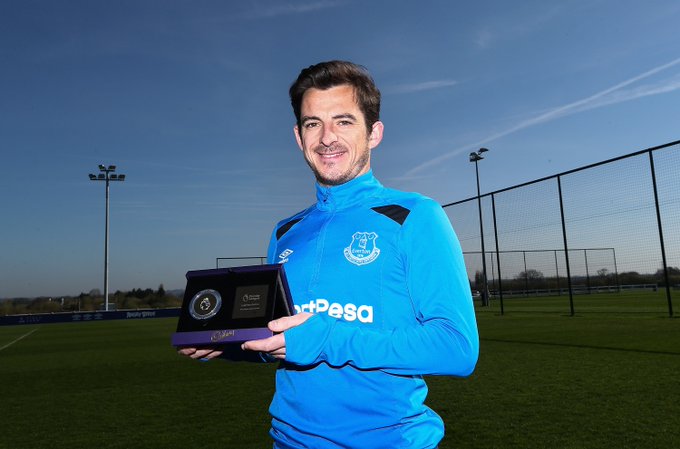 Everton star, Baines will make his 400th top-flight appearance when Manchester City visited Goodison Park last month and has been recognised for the feat by being presented with a Cadbury's Milestone Award at USM Finch Farm.
The left-back, who has since added a further three outings to his impressive tally, admitted he is still learning 12-and-a-half years on from making his debut in the competition for first club Wigan Athletic.
"Positionally, the job changes all the time," the 33-year-old said. "When I first came into the team, the role of a full-back changed within a few years and you were expected to be a lot more dynamic and do different things.
"By the time I came here (to Everton) and I was in my mid-20s you were expected to be creating and providing opportunities for the team, and that probably wasn't always the case before, or at least not to that extent.
"And obviously then, with age, you have to adapt and adjust as well. So it continually changes and you have to use your brain as well as looking after yourself and try to bring into play the things you've picked up over the years through your experience."
Having helped them climb up from League One, Baines enjoyed two Premier League seasons with Wigan - proving a key figure as the Latics recorded an unlikely 10th-place finish in their first ever top-flight campaign - before moving to Goodison Park in July 2007.
No player in the current Everton squad has made more appearances for the Club than the Kirkby-born defender, who coincidently amassed his 400th run-out for the Blues in all competitions against Newcastle United on Monday night.
Of those outings for the Club, a staggering 379 have been starts as Baines has established himself as the trusted left-sided full-back of four successive Toffees managers.
David Moyes, Roberto Martinez, Ronald Koeman and Sam Allardyce have all opted for Baines as a first choice when fit and, asked for the secret to his continuing influence, the Toffees' no.3 explained: "Part of it comes down to lifestyle, the way you live and the things you do.
"There's luck involved as well and you're going to get some injuries but I've never had any major setbacks at crucial times.
"I suppose I've been lucky also with the fact I've had managers who have believed in me and given me the opportunity to play, and through good and bad times they persisted with me.
"A lot of it comes down to things like that - timing and luck."
FOR REPORT TIP OFFS: EMAIL: reportminds@gmail.com BBM: D60D006B WHATSAPP: 07060677274