I am ready to date Harmonize -Huddah Monroe says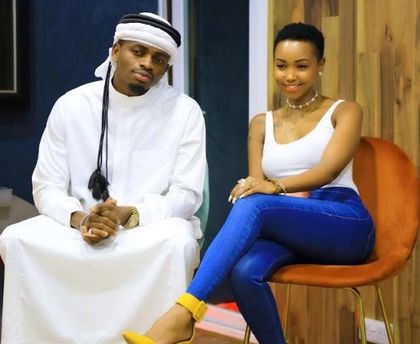 Socialite Huddah Monroe has made yet another unexpected confession. The socialite has now said that she's ready to date Kwangura hit maker Harmonize.
In an exclusive interview with WBC TV, the socialite revealed that Harmonize is the only man from Tanzania he can start a relationship with because he is humble.
"Nikiambiwa nidate a Tanzanian guy right now huyo atakuwa Harmonize. I think he is a very humble guy. Nilimmeet like two years ago through Zari and Diamond. Hakuwangi na maneno mingi" responded Huddah.
The sentiments of the socialite comes after a short clip of the two romancing surfaced online. Huddah, however, came forth to deny claims that they were kissing.
"Ukiangalia hiyo video hatukukiss tulikuwa tu hivi tunavyo ongea nikamshika kandevu kake that's it. That time tulikuwa mimi Zari na Diamond you now we were having a thing in Johannesburg, she said in part.
The statement of the socialite, however, did not convince her fans after what they saw in the clip, which has since gone viral.
The socialite, who is not new to controversy, also revealed that she misses Ugandan Socialite Zari Hassan. The two are rumored to have parted ways after she became closer to Diamond Platnumz, Zari's ex-husband.