Photos: Perez unveils Lopetegui as Real Madrid coach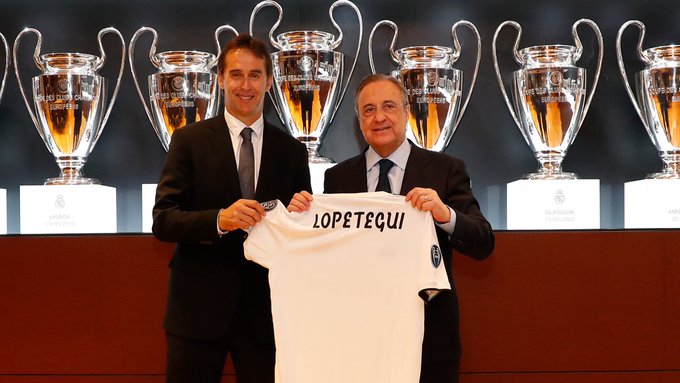 Real Madrid have unveiled Coach Julen Lopetegui as the new first team manager today, June 14.
Recall that The Los Blancos announced Lopetegui as the successor of Zinedine Zidane days ago. This prompted the Spanish FA to terminate Lopetegui's contract with the Spanish national team just two days to world Cup.
Spain has gone ahead to name, Hierro as the manager of Spain, till the world Cup is over.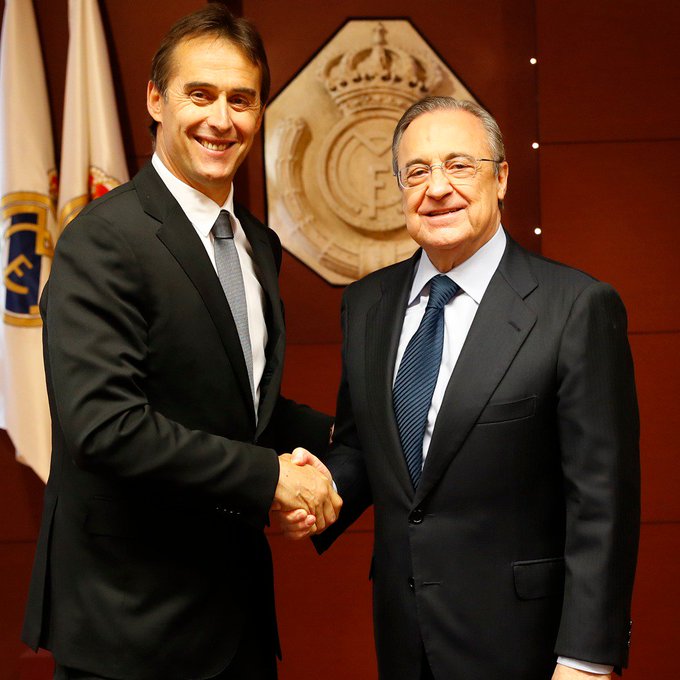 Real Madrid
head coach: "It's the happiest day of my life. When I arrived here at 18 years of age, I was lucky enough to play for Castilla, the first team, and experience and feel what madridismo is all about, that loyalty. I then got the chance to coach Castilla and now the immense fortune and responsibility of coaching Real Madrid. It's come full circle and I'm incredibly happy".
"The biggest thing for
Real Madrid
is winning the
Champions League
, but every title is important here because we have to win them all. The good thing about being here now is that we'll have the time to consider different situations and we're setting to work with a view to next year; we'll certainly have the best possible team".
Leaving the national side
"Loyalty is about telling the truth and the first person to find out about this was the president of the Federation. There were congratulations sent by the Federation and a press conference set up. I was clear that the agreement had to be finalised before the
World Cup
. The only reason for unveiling it was to be honest and transparent about it with everyone. The players took it very well, they're a wonderful group".
"It's happened many times before and all we wanted to do was be transparent where we needed to be, not beforehand when there's nothing on the table. I have no idea what happened next. I'm a loyal person and I learned about responsibility here as a young boy at
Real Madrid
. Now I'll just have to cheer Spain on and we'll all be pulling our shirts on and hoping they win the World Cup. Here I'm fully focused on this challenge and will set to work tomorrow".