Portugal 3-3 Spain: Ronaldo scores hat trick as De Gea goofs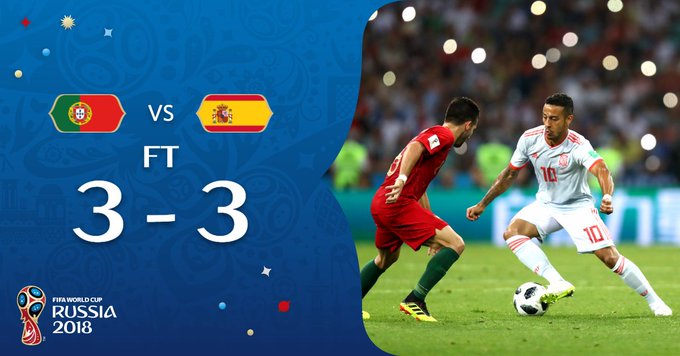 Portugal held Spain to a 3-3 draw, with Real Madrid star, Cristiano Ronaldo scoring a hat trick.
Diego Costa, a former striker of Chelsea scored a brace to draw the game to a 2-2 draw after Spain went behind after Nacho brought Ronaldo down just inside five minutes.
Although, Nacho redeemed himself with a right foot effort to put Spain in front for the first time. But with five minutes left in regulation time, Ronaldo curled a trade mark free kick to beat David De Gea for the third time in the game.

Cristiano Ronaldo of Portugal scores his team's second goal on the cusp of half-time
David De Gea of Spain looks on as he allows the ball to squirm through
Ronaldo celebrates scoring his second goal just before half-time
Spain's Diego Costa (left) scores his side's second goal from close range
Costa celebrates scoring his second equaliser for Spain against Portugal
Nacho's fizzing low drive put Spain in front for the first time at the Fisht Stadium
Spain's Nacho scores his side's third goal with a brilliant long range strike
Cristiano Ronaldo of Portugal scores his team's third goal with a stunning free-kick
Ronaldo's goal was his 51st career hat-trick and it came late on in Sochi
Ronaldo celebrates theg oal that looked set to rescue Portugal a point
Cristiano Ronaldo of Portugal scores his team's third goal with a stunning free-kick
Ronaldo's goal was his 51st career hat-trick and it came late on in Sochi
Ronaldo celebrates theg oal that looked set to rescue Portugal a point