World Cup 2018: Serbia 1 vs 2 Switzerland (Highlights Download)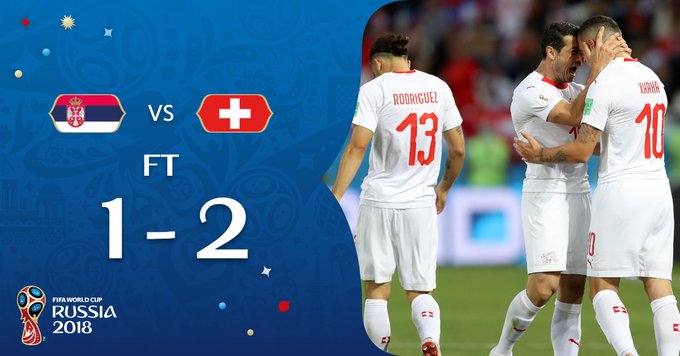 Serbia bossed the first half of their clash with Switzerland but were pegged back by fine efforts from Granit Xhaka and Xherdan Shaqiri.
Xherdan Shaqiri scored a last-minute winner to give Switzerland one foot in the last 16 of the World Cup after a 2-1 victory over Serbia.
The Stoke City forward kept his cool to put the finishing touch on a brilliant second-half fightback from Vladimir Petkovic's side that began when Granit Xhaka scored a thunderous equaliser early in the second half.
Arsenal midfielder Xhaka defied Switzerland's reputation as a side lacking in attacking threat when he rattled the ball into the net from 25 yards, pulling his team back into a game that had threatened to get away from them.
Aleksandar Mitrovic wreaked havoc in Switzerland's box throughout the first half, scoring the second opportunity presented to him for a Serbia team that looked assured and confident after beating Costa Rica 1-0 in their first game.
DOWNLOAD HIGHLIGHTS