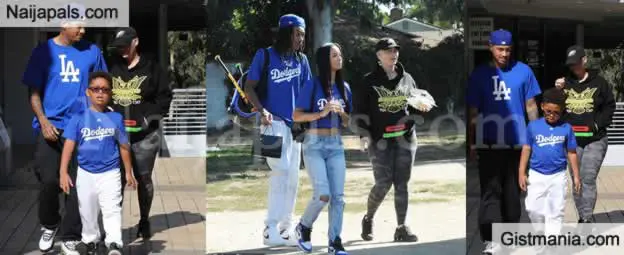 When it comes to parenting their son Sebastian, it's clear exes Amber Rose and Wiz Khalifa are on the same page.
The two spent the day together on Sunday, alongside their new partners, to watch the six-year-old play baseball.
And far from being awkward, the group seemed to be having a wonderful time, with Amber even bonding with Wiz's new love Aimee Aguilar.
One family member was notably absent - Amber's newborn son, Slash Electric Alexander, who she welcomed with her boyfriend Alexander 'AE' Edwards just three weeks ago.
For her day out, Amber rocked a statement black sweater and camouflage inspired leggings.
Amber's current boyfriend, Alexander Edward was also seen chatting to her ex Wiz, who got into the spirit of things with his blue Dodger's T-shirt that he wears at each game.