For a celebrity marriage, you would agree that Nollywood actors, Mide Funmi-Martins and Afeez Abiodun aka Afeez Owo's union has stood the test of time.
The pretty Mide Funmi-Martins has been married to her husband, Afeez for 16 years.
The deceased was one of Nollywood Yoruba biggest actors.
Well, this Nollywood marriage between Afeez Abiodun and Mide was threatened in 2016 and almost crashed.
Then, the union which has produced two children became a concern to many fans and colleagues when personal issues between the couple cropped up on Instagram.
The troubled marriage topped the chart on social media. It extended to the actress spilling out outrageous comments about her husband, who she accused of abandoning the home.
But sanity prevailed and the couple made amends.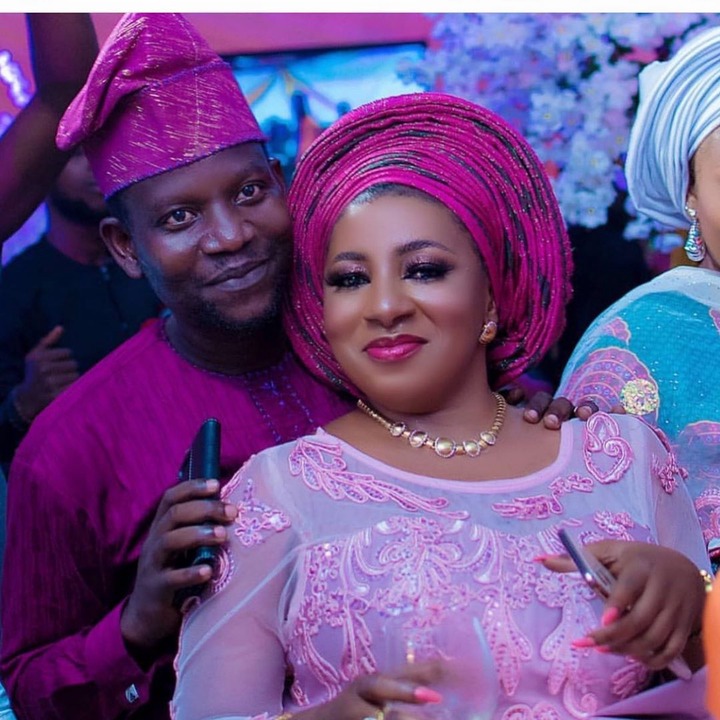 Just three years after the storm, the couple's love seems to be waxing stronger and the beautiful actress narrates how she met her husband: "My husband and I grew up together. He was actually my mother's manager and I used to call him Brother Afeez. We have always been friends," she said.
You would agree that she looks more urbane than her husband.
Also very pretty for a man with facial marks, that has prompted many fans to insinuate she might have married her husband under a spell.
Dismissing such claims, Mide said, "My husband is very caring and dependable. I know some people said he used black magic to marry me but that's not true. If only they knew the type of relationship we share, they wouldn't be saying such rubbish."
What has kept the marriage for these number of years?
Mide revealed what her magic wand is.
"First, she opened up, "Its prayer, I believe so much in it, and I believe in my God.
I always put God first before I embark on any journey. I believe I'm young and I don't have many people around me. I don't have too many friends, and I don't keep relatives too much, I just believe in my family. I believe the only person who can guide me aright is my God, and I know how to talk to Him in my own way and I've been seeing positive results."
She didn't forget to say, "I'm also a focused person. I've been married for 16 years now. Marriage is not an easy thing. It's a crazy world, and you need a lot of time, focus, prayer and devotion to make it flow. There are lots of challenges in marriage. I have been through the worst in my marriage. And at that point, I thought it was the end of it, I thought it was over, but to God be the glory, I was able to pick up again. Let me just say, God has been the only factor because He's the only one who can actually put one through. We are only trying our efforts, even the work that we do, it's when God says yes, that's when you will be successful."